Qualifying Student-Athletes
First Year 8th Graders – Student-athletes who have successfully completed their 7th grade at a home, public, or private school setting.

Reclassed 8th Graders – Student-athletes who wish to repeat their 8th-grade year to be better prepared for high school.

7th Graders – Student-athletes with a high 6th-grade academic standing and maturity level, who wish to complete their 7th and 8th grade at the Parisi Academy.
Give us a Test Drive
During the school year, we invite you to spend a day with us to really experience what the Parisi Academy is all about. You will experience morning ritual, the classes for the day, and even a limited part of the afternoon training session. To schedule a visit, please Contact Us.
Steps to Enrollment
The following are the steps to enroll in the Parisi Academy:
Complete the Online Admissions Application

Schedule and Attend an Enrollment Interview

Formally Accept Enrollment Offer (if offered)

Register as a Homeschool Student with Your School District*

Submit $500 Non-Refundable Deposit (guarantees placement for 45 days)

Submit all required Forms, Release and Payments

Attend Student-Athlete Evaluation

Attend Student-Athlete/Parent Orientation
Tuition & Fees
Non-Refundable Deposit: $500
Resource Fee: $500
Tuition: $14,500
Payment options available.
Questions?
Still have questions? Check out our Frequently Asked Questions page to learn more.
*The Parisi Academy provides the paperwork and transcripts required for both public and private schools during their application process and at the end of our school year.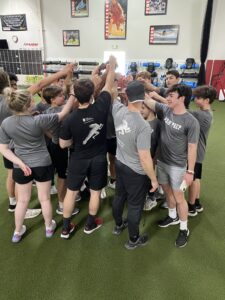 Spend a Day with Us.
Experience a full day at Parisi Academy! We match you with a current student who will make every effort to make you feel relaxed and welcome. You will attend classes, have lunch, meet faculty members, join training (if you choose), and experience what it is like to be a student at Parisi Academy.